Each Media player is capable of playing stereo or multi-channel audio.
The audio controls offer basic volume and pan controls for stereo playback.
Note: For multi-track audio playback it is best to use the volume controls on the playback device to control individual channel levels
Sync To Level
Sets the volume equal to the layer's level.
Note: When the volume is linked to layer level and controlling from

DMX

, it is advised to set the volume to update only.
Audio Output
All Hippotizer V4 systems are fitted with stereo audio outputs on either XLR or 1/8" mini jack. For multi-channel audio, an output interface is required. Hippotizer supports most common Windows 8 compatible interfaces. Green Hippo recommends the Motu 828x
Hippotizer uses the Windows default playback to output audio. This is configured from within the Windows audio control panel;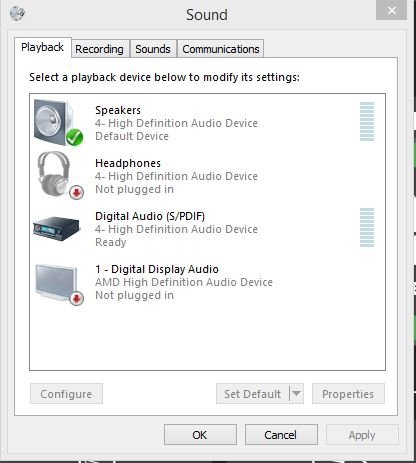 Feedback
Thanks for your feedback.