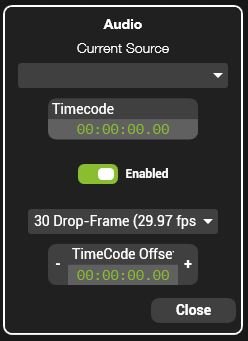 Linear Time Code (often called SMPTE timecode) encodes a time signal into audio, Hippotizer can read this signal from any audio input.
Current Source
Lists all active audio input sources on that machine. This list is managed by Windows and determined by which devices are discovered, so if a device does not appear here it is likely down a driver issue.
Timecode
The time received from the selected source
Enabled
On/Off control for the source.
Frame Rate Drop Down
Select the type of timecode received. (This is determined by the timecode source)
Timecode Offset
Add a set amount of time to the incoming timecode in order to compensate for delays.
To Configure
Plug the audio input into your Hippotizer system (Audio must be going into the system running the Sync Manager Component)
Goto Sync Manager in Zookeeper and select Audio as an External Input
Click the settings cog
Select the Audio input device as the Current Source; this will depend on what is used to bring audio into the system.
When Set correctly, the time readout will reflect the timecode being received
Note: As timecode is being carried by a normal audio line, the gain (volume) must be set correctly to function. It is frequently necessary to experiment with various combinations of the output device volume and the input gain to find a correct setting.
Feedback
Thanks for your feedback.