Each Fixture has a set of properties such as it's patch, location and scaling.
To view the properties of a fixture, select it and the context menu will change to show that fixture's information.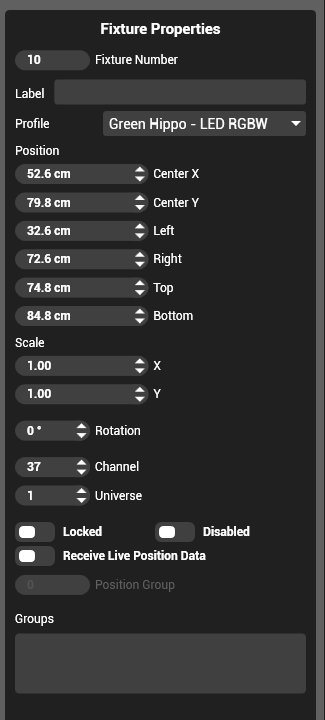 Fixture Number
A user assignable number for each fixture. Two fixtures can have the same number.
Label
An optional text field for each fixture
Profile
Select which profile the fixture references.
Position
The location in the map. As the center of the fixture can be confusing when arraying fixtures, the location of the corners are also given.
Note: The position of a fixture is measured from the bounding box containing the un-rotated fixture.
Scale
Allows the fixture to be made smaller or larger. The scale is a factor, so scale of 10 will make the fixtures 10 times larger in that axis.
Rotation
Rotation of the fixture in degrees.
Channel
The starting DMX channel of the fixture.
Universe
The pixelmapper universe that the fixture will transmit on.
Note: Pixelmapper universes are patched to outputs in the settings of Pixelmapper.
Locked
Locks the fixture so it can not be moved on the map by accident
Disabled
Stops output to the fixture
Receive Live Position Data
Allows the fixture to be controlled from live position data provided by a the Coordinator component.
Note: As of 4.2 release, live tracking by Pixelmapper is available on request. Please contact Green Hippo for more details.
Groups
Any group(s) that the fixture has been assigned to.
Feedback
Thanks for your feedback.