The Hippotizer Karst DVI and Boreal DVI feature a hardware EDID manager called a Mimic, on all production DVI outputs. This allows the system to emulate attached displays after they have been disconnected.
The Mimic can learn the EDID profile of a monitor connected to either its HDMI or DVI port. HDMI is limited to HDMI 1.3 (1080p) while the DVI extends to all supported DVI-DL resolutions.
Note: The Mimic can only learn from one display, so if both outputs are being used, disconnect one of them while learning.
Learning the EDID can be triggered from the emulator by pressing and holding the learn button for 2 seconds.. While the unit is in emulating mode, the LED will show Green. When bypassed, the LED shows Red.
Controls: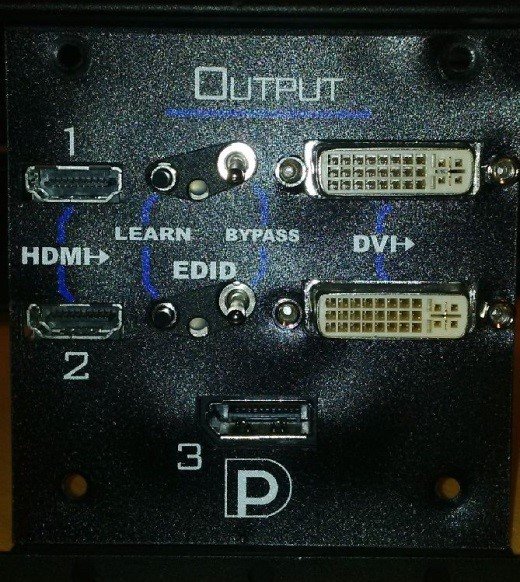 Toggle Switch
The switch controls the state of the emulator, Up enables the board, Down Disables it
Learn Button
Press and hold the black learn button for 2 seconds to trigger the emulator to learn the EDID from the attached display
LED

Colour Codes

Green: Emulating EDID

Red: Bypassed, so EDID will pass directly from the attached display.

Flashing Amber: Learning EDID

Flashing Red: EDID Learn failed
Splitting the signal to
HDMI

and

DVI

The EDID board can also be used as a Distribution amp, sending the video signal to both the HDMI and DVI output at the same time. The only limitation is that of the HDMI which cannot go above HD resolutions. If higher resolutions are used them the HDMI will not output video.
Feedback
Thanks for your feedback.