Every layer in Hippotizer features an independent Keystone control accessed from a tab within the Geometry section.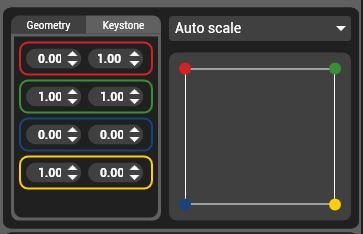 The Keystone is defined by four points, one for each corner.
Note: Keystone does not support concave shapes. In the event a concave keystone is created an un-keystoned image will be shown
The Keystone occurs after geometry controls in the signal chain so it is best to avoid using geometry on layers with keystone.
Feedback
Thanks for your feedback.