Media Speed

The playback speed can be set from 0 (Paused) to 400 (4x Speed).
|Note: The default speed of 100 may not fall onto a whole number for DMX personalities. See here for details|.
Pause on Dark
Pauses media playback when the layer level is set to zero.
Rewind on Dark
Sets the media play-head to the In-Point when the layer level is set to zero.
Interframe Blending
The media player will by default always render a new frame for each render loop of the engine. This means that if the engine is running at 60 frames per second (FPS) and the media player is playing 30 FPS content, it will interpolate every other frame by blending the two adjacent frames, a process called interframe blending. In most cases this is desirable; content will look smoother especially when played at slow speed. However, there are cases where interframe blending is not ideal, such as when media frame rate matches engine frame rate.
Interframe blending is controllable on each layer with a pin: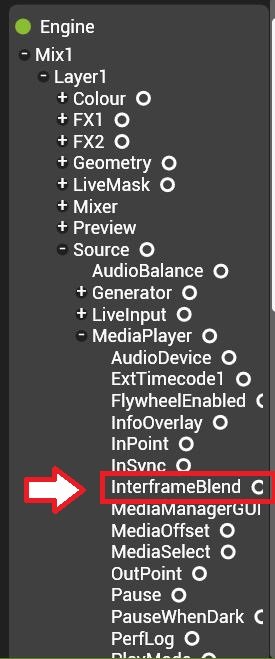 Feedback
Thanks for your feedback.