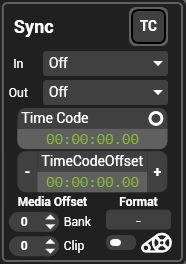 Each media layer can lock to and send timecode information, this data is more generally known as Synchronization. TimeCode coming into the system from external sources (such as Linear Time Code) carries time only, while a layer generates a full Sync State which includes clip information, In-Point, Out-Point and playback speed.
To configure Timecode input, please see the Sync Manager
Sync Buses
Each Hippotizer has 16 Synchronization channels for use by media players refereed to as a Sync Bus. Sync buses do not rely on any components to operate.
More Information on Sync Buses
Sync In
Sets the layer to use either an external sync source or another layer as an input. Sync Bus 1-16 carry a full Sync State so control media selection and player state as well as playback. External 1 and 2 only carry time. To disable Sync into a layer, set the Sync In to be Off.
Sync Out
Sends the layer's playback state to one of the 16 Synchronization buses to be use by other layers.
TimeCode Offset
Delays the layer's response to TimeCode. For example, a layer with Offset of one minute would play a clip at time 0 when receiving timecode of one minute.
Flywheel
Determines if the layer stops playing when TimeCode stops being received. With FlyWheel enabled, the layer will carry on on loss of TimeCode. When disabled the layer will stop playing over the course of 5 seconds.
Media Offset
Used when receiving a Sync Bus from another layer; the clip and bank offset allow each layer to play different clips in time with each other.
Timecode Format
Type of timecode being received by the layer. A Sync Bus will show as "Time" while Linear Time Code will show it's frame rate, for example 30 Drop Frame displays as "30DF"
Feedback
Thanks for your feedback.